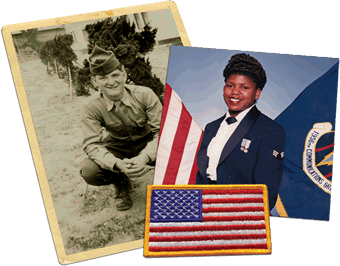 Photo Guidelines
Photos must portray the Veteran alone in uniform. Preferred photos include further references to the military including salutes, hats, badges, etc.
Photos must be uploaded by the Veteran themselves or an immediate family member.
What is Faces of Heroes?
The Ann Arbor Faces of Heroes is an online collection of Veteran photographs. The photos can be viewed online at our Faces of Heroes Virtual Wall.
Every photo uploaded using this website is reviewed by the Ann Arbor VA. Once accepted the photo can be viewed online and at the medical center.
Virtual Wall Website
The virtual wall is a website that showcases the photos uploaded from this site. The virtual wall allows you to search for a Veteran by name, branch of service or service entry date.
Public Installation
All uploaded photos will be on display at the VA Ann Arbor Medical Center at the Faces of Heroes kiosk starting November 11, 2014. Simply search for the Veteran you would like to see and his/her images will be displayed on a large television screen. The kiosk will be located on the third floor beside the Central Pavilion elevators.